Nails Your Way
---
HOME | About NYW | ARTICLES | SERVICES & PRICES | MAP

---
Nondamaging Enhancements - Go30 Prescription Nails
Go30 Prescription Nails is a non-damaging nail enhancement method that replaces acrylics and gels. Go30 Prescription Nails is a technological breakthrough in the nail care industry. They are called "Prescription" Nails because each set is carefully prescribed - the curvature and arch of each nail is precisely measured and recorded on a client's personal prescription card. The nails are custom fitted to the client's nail shape and size - producing nail enhancements that have a very natural look and feel.
No fill-ins needed
No painful removal
Non-damaging sanding & buffing
No damaging electric drills used
Each set lasts for up to 2 weeks
Thin, durable, natural look and feel
Great for nail biters and those concerned about protecting the natural nail bed
Clear, full-cover nails, custom-designed for application on top of the natural nail bed
Perfect for clients who want long, beautiful nails without the damage associated with traditional acrylic, gel, or wrap enhancement methods
Are you fed up with salons that employ nail techs that never listen to your requests and continue to give poor customer service? Are you fed up with having your nail beds and cuticles painfully burned with the improper use of the electric drill? Are you fed up with painful prying enhancement removal that takes off layers of the natural nail plate and permanently damages the nail matrix? If you answered yes to any or all of these questions then you can avoid these problems by changing to Go30 Prescription Nails enhancements.
These wonderful enhancements are clear, full-cover nail extensions that are custom-designed for application on top of the entire natural nail bed. They are durable and last up to two weeks. They are easily soaked off in about 15 minutes in acetone when professionally removed at the salon. You can have a new full set of nails every two weeks without suffering painful prying or drilling.
Go30 Prescription Nails also help grow your natural nails. They provide a protective cover over the entire nail bed - preventing breakage as the natural nails grow. When you get your FREE soak-off removal every two weeks, your nails are examined to make sure that your nail beds are staying healthy.
The length of your natural nails doesn't matter. You might be a nail biter with no length at all. You might have short or medium length natural nails. Go30 Prescription Nails are clear, you can see the length of the natural nail through the tips, so the natural nails are usually shortened for best results.
Go30 Prescription Nails are lightweight so they are comfortable to wear. Many women have told me that their friends thought that the Go30 Prescription Nails were natural nails. If you want a healthier enhancement method that produces beautiful nails that look and feel just like your own then you need Go30 Prescription Nails.
NOTICE: Please Be Advised - Go30 Prescription Nails Enhancements will not be applied on nails with fungus infections.
Go30 Prescription Nails Consultation, Evaluation, and Fitting
Manicure, Fitting of First Set, Choice of Color Polish (Traditional Enamel), & Go30 Prescription Nails Custom-fit Full Set ............$30.00
Cuticle care & Re-fitting (includes FREE Soak-off of previous set), Choice of Color Polish (Traditional Enamel)............$30.00
French Polish (Bright White or Natural Look White traditional enamel)............$7.00
Removal - Go30 Prescription Nails or other Nail Enhancement Soak-off
Ultrasonic Acrylic Removal (warm acetone & mild vibration soak)............$25.00

Ultrasonic Go30 Prescription Nails Soak-off Removal (warm acetone & mild vibration soak)
............Included FREE with each purchase of Go30 Prescription Nails)
............$13.00 without new set purchase
UV Gel II Soak-off Removal with individual finger/foil acetone-soaked removal pads & gentle pressure to push off loosened UV gel polish with cuticle pusher after 10 minutes
............$9.00
Gift Certificates available for all services
Prices subject to change without notice.
All services are By Appointment Only. If you need to cancel or reschedule, please give us 24 hours notice in order for us to be able to schedule another client to fill your vacant time space.
---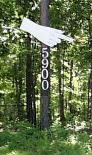 Read Jeanne's Latest Monthly Article In Chapel Hill News & Views.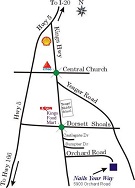 Nails Your Way
Jeanne Grace Curtis
5900 Orchard Road
Douglasville GA 30135-4726
Look for the Hand Sign pointing at the gate!
(All the way at the end of Orchard Road)
Click on Map for Printable Copy.
By Appointment Only
| | |
| --- | --- |
| Sat-Mon | Closed |
| Tues-Fri | 11am-6pm |
770-949-3113
---
HOME | About NYW | ARTICLES | SERVICES & PRICES | MAP

---